Big
Readable from the air at long distances.
Made of durable aluminum
Easily attach to any tower or crossarm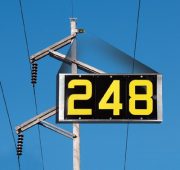 Aerial markers are crucial elements in the cost control of line maintenance. Missing, faded, or damaged markers result in considerable down-time for field repair personnel. Premax produces transmission line markers that are large, rugged, and identifiable from a considerable distance. You can number a tower once and rest assured you won't have to number it again.
Our markers are easily attached to lattice towers & concrete or steel pylons via available racks, banding & other mounting fixtures. Consult factory for specific application.
​
Size
Style
Item
6 inch
Yellow Nos./Black Block Plaque
614Y-*
6 inch
Aluminum Nos./Black Block Plaque
614A-*
6 inch
Black Nos./Yellow Block Plaque
614B-*
6 inch
Plain Finish Aluminum Number or Letter
UAR06-*
* Refer to catalog page for complete ordering information.